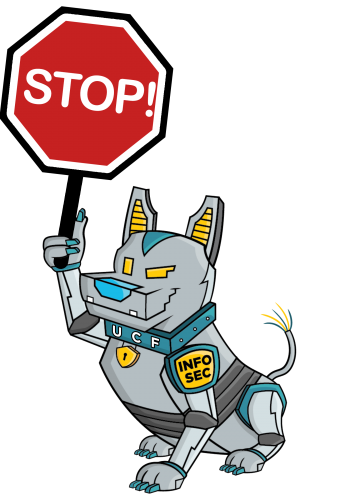 UCF infoSec continues to receive reports of scams targeting the UCF community
Responding to these scams may result in financial loss or the risk of identity theft. If you receive an unexpected message (email, text, voicemail), stop and ask yourself:
does it offer a job, even if I didn't apply for it?

does it ask me to deposit a check and then send back a portion of the funds?

does it ask me to purchase gift cards?

am I being pressured to perform some task or provide sensitive personal information?
If you answered "Yes" to any of these questions, the message is likely a scam.
Never provide photos of your government ID (driver's license, passport, etc.) via email.

If you provided your account password, change it immediately.

Confirm with your bank the legitimacy of any checks you receive before depositing them.

Confirm any requests for gift cards in person or via a known good phone number.
How can I protect myself and my fellow Knights?
If you haven't already done so, enable Multi-Factor Authentication on your Knights email.  More info here.
Forward any suspicious emails to the Security Incident Response Team at SIRT@ucf.edu
Watch the video below for an important message from the Florida Attorney General about scams targeting university students: